Bloemfontein Achilles (Cnr Parfitt & At Horak Street)
Date: 28 October 2017
Time: 07:30 for 08:00
Event: 5km fun walk
Registration: R50 (adults); R30 (kids under 13); pre-register before 25 October 2017 at CANSA or on the form below
CANSA address: 88 Melville Drive, Brandwag
More info: 051444 2580
On 28 October 2017 you can let your feet do the talking in support of CANSA Bloemfontein with a fun 5km walk presented in a circle route, starting at Bloemfontein Achilles.
Join the march towards healthy living, support the survivors and remember the fighters. Pre-register before 25 October 2017 by visiting CANSA's Bloemfontein offices or online here: http://www.cansa.org.za/register-now-cansa-bloemfonteins-shades-of-pink-breast-cancer-walk/.
The Route:
Start: Zola Badd Street left into Att Horak Street.

Follow the road past the back of the station and turn left into First Avenue.

Follow the road to Henry Street to first water point, turn left into Henry Street.

Follow the road to Parfitt Avenue with entertainment on corner.

On the Corner of Henry Street and Parfitt take a left again and walk up to Park Road past Att Horak Street to second water point.

Take a left into Park Road and follow the road and left into Betoger Avenue past the Bloemfontein Tourism Centre and again left into Att Horak Street to finish on the corner Att Horak Street and Zola Budd Street.
Map: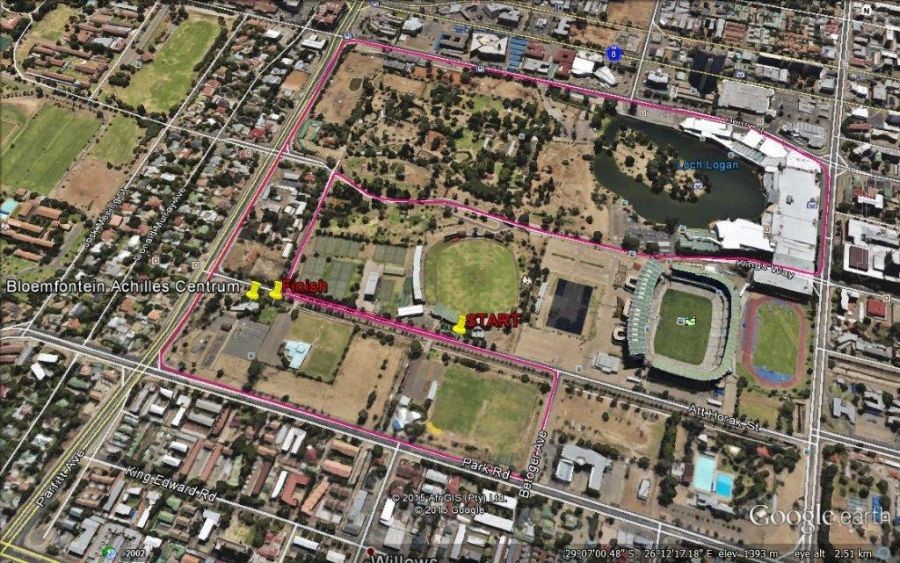 The link between the Big 5 and South African women has nothing to do with our country's magnificent wildlife legacy, but rather everything to do with the disease, cancer, that wreaks havoc with South Africa's sisterhood.
With October being Woman's Health Awareness month, the Cancer Association of South Africa (CANSA) highlights the five leading types of cancer that indiscriminately afflict women in South Africa - breast, cervical, colorectal, uterine, and lung cancer.
While access to good healthcare for all, would be a significant contributing factor to lowering cancer deaths and improving outcomes, CANSA firmly believes in sharing awareness and knowledge and how this strategy can go a long way in lowering cancer risk and improving the overall disease landscape in the country.
Both breast and cervical cancer have been identified as a national priority with increasing incidences occurring. Approximately 19.4 million women aged 15 years and older live at-risk of being diagnosed with breast cancer - the cancer affecting women in South Africa the most. In 2013, deaths from breast cancer and cancers of the female genital tract, accounted for 0.7% and 1% of all deaths in South African respectively.
The Radiological Society of South Africa (RSSA) are offering special mammography reduced fees at all RSSA affiliated mammography clinics throughout the country, during October - http://www.cansa.org.za/files/2017/10/RSSA-Discount-Breast-Awareness-Participation-2017.pdf
The second most common cancer amongst women in South Africa is cervical cancer caused by the Human Papilloma Virus (HPV). CANSA strongly recommends all women who have been sexually active should start having Pap smears between the ages of 18 and 20 years, and Pap smears may cease at the age of 70 years if the individual has had two normal Pap smears within the last five years. Pap smears tests are uncomfortable but painless – they help lower the risk of cervical cancer, not just detect it early. When abnormal cells are identified and removed, in many cases it is prior to cancer cells actually developing.
Colorectal cancer or colon cancer is the third most common cancer affecting women in SA. CANSA continues to appeal to women to get to know their bodies and start looking out for any telling signs and symptoms that may reveal this hidden scourge. Change in bowel habits (diarrhoea/constipation), rectal bleeding or blood in stools and persistent abdominal discomfort (cramps, gas or pain) are among some of the warning symptoms of colorectal cancer.
Cancer of the uterus, also known as endometrial cancer or uterine cancer is number four of the most common cancers affecting women occurring in the tissue of the endometrium which is the lining of the uterus.
And then there is lung cancer that occupies position five. Statistics reveal that the more a person smokes, the greater the risk of developing lung cancer. It's also more likely to develop in people who start smoking at a young age. However, if someone stops smoking, the risk of developing lung cancer falls dramatically and after approximately 15 years, the chance of developing the disease is similar to that of a non-smoker.
By paying greater attention to the 'Big Five', women will be better prepared to reduce their personal cancer risk and avoid the physical and emotional impact that can accompany a cancer diagnosis.
CANSA also has various Mobile Health Clinics which offer screening to people in communities who do not have easy access to health screening (http://www.cansa.org.za/cansa-mobile-health-clinics/). During October, people can participate in a CANSA 'Shades of Pink' Walk to raise awareness about cancers affecting women and funds to help CANSA in its screening and support efforts for women. See here for the nearest event. (http://www.cansa.org.za/files/2017/10/CANSA-Shades-of-Pink-Events-2017.pdf)