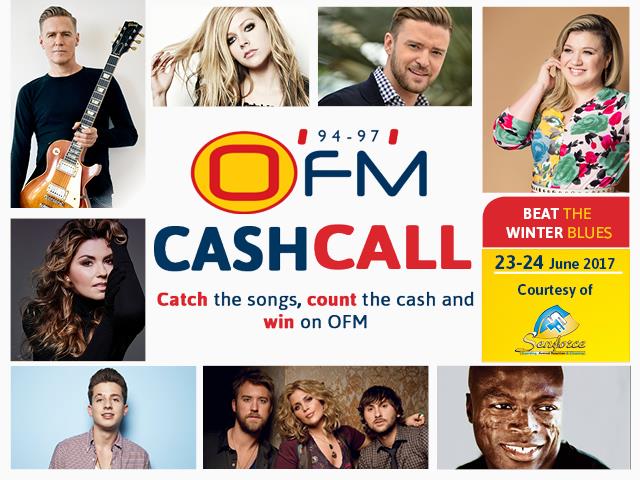 OFM CASH CALL
Beat the winter blues and line your pockets with OFM Cash Call, giving you a chance to win on air, 23-24 June 2017!
How it works:
OFM's presenters will alert you when it's time to play OFM Cash Call. They will also tell you which artist to listen out for and the keyword you need to SMS (R1.50/SMS) to enter the draw for the cash prize. Each song you hear from the time the presenter reveals the artist to listen out for that hour is worth R100. When you hear the artist's song play in that hour and how much it is worth, SMS the keyword, which the presenter has given on air, to enter the lucky draw and that cash amount could be yours! Remember to stay tuned to OFM for your chance to win.

*Please note: All OFM competitions are conducted in accordance with the provisions of Section 54 (1) of the Lotteries Amendment Act (46 of 2001).
OFM competitions are open to all South Africans, unless otherwise stated. Competitions are not open to employees, agencies, prize sponsors or contractors of OFM, AME or any person directly or indirectly involved in the organisation or running of the competition, or their immediate family members.
No person may enter the same or any other competition hosted partly or in whole by OFM within sixty (60) days of winning the same or any other competition hosted partly or in whole by OFM.
This rule also extends to the immediately family or household members of the winner.
Entrants participating for cash prizes need to be 18 years or older.
Please enter responsibly.
See full competition rules here.