Date: 4 February 2018
Did you know cancer affects one in four South Africans, through diagnosis of family, friends, colleagues or self? The latest Stats SA figures shows a steady increase in deaths attributable to cancer from 5.6% in 2006 to 9.1% in 2015. Worldwide cases of cancer are predicted to reach 21.7 million by 2030.
Show your support towards healthy living on World Cancer Day by downloading and printing out the PDF below and sharing your message on social media with hashtags #MeAsWell, #WorldCancerDay and #WeCanICan. Whether you are a survivor, a fighter or supporter, we want to know about you. Tell us how you are reducing the risk, fighting the fight or how you've overcome.

Click here to download the PDF.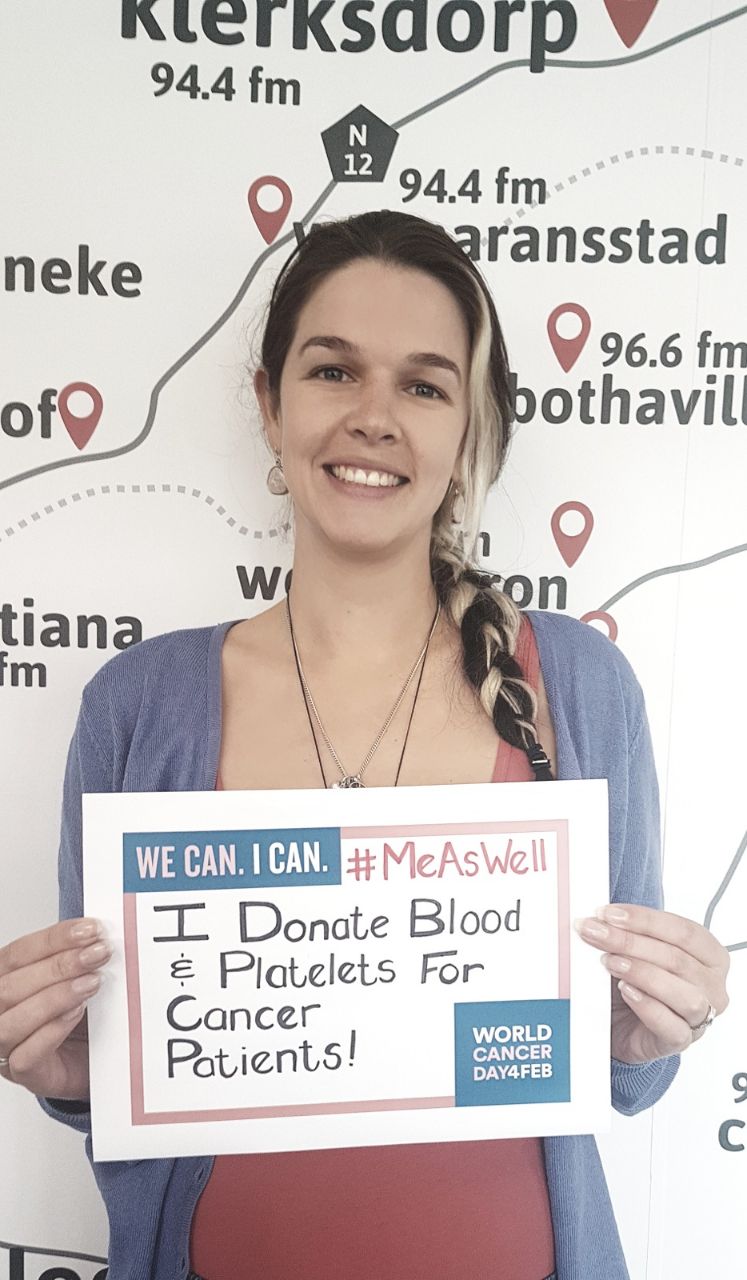 WORLD CANCER DAY INTERVIEWS:
If you missed any of the informative and inspiring interviews from experts and survivors, download the podcasts below:
INSPIRE ACTION, TAKE ACTION:
Choose to live healthy today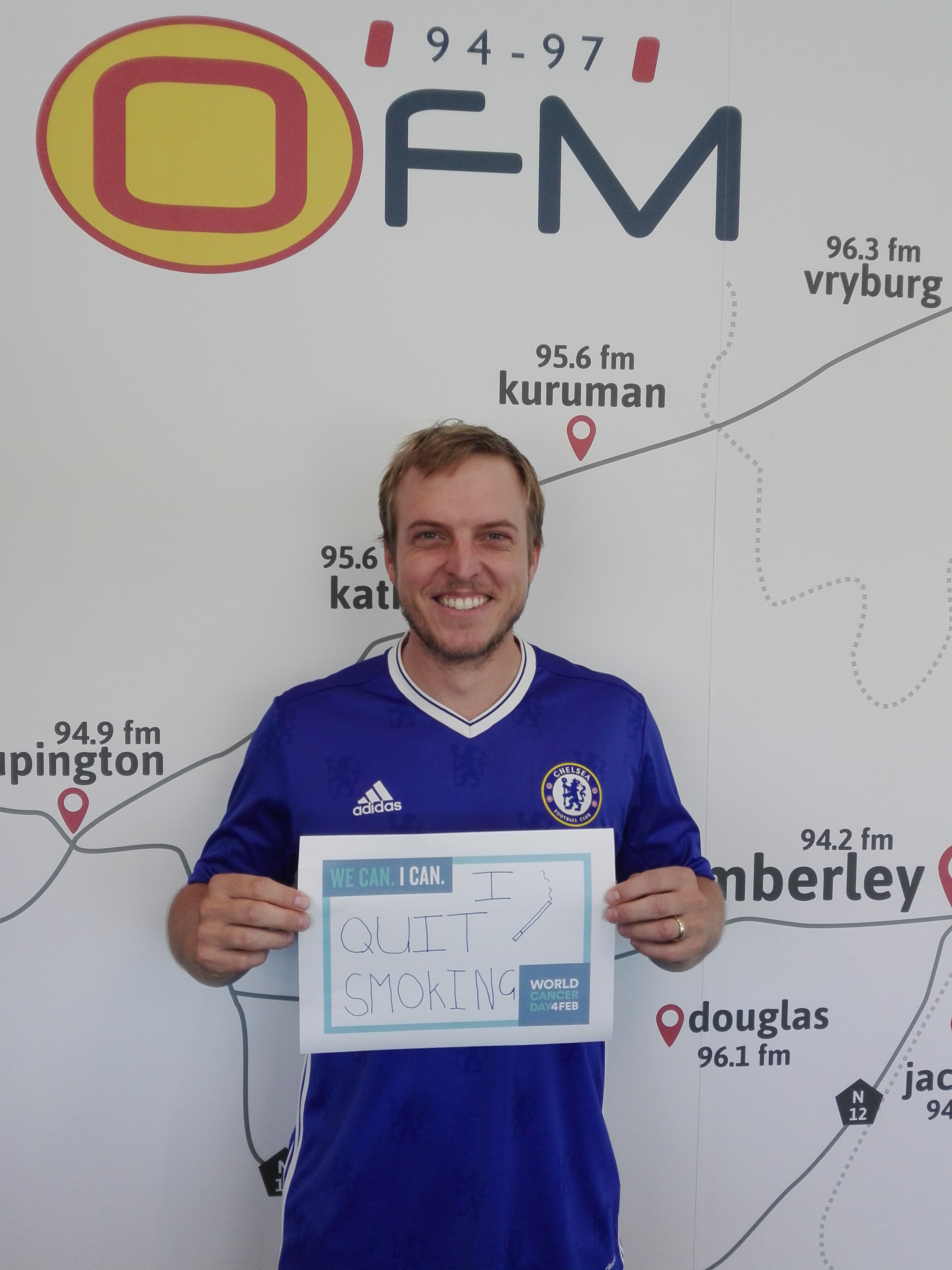 Everyone can take steps to reduce their risk of cancer by choosing healthy options including quitting smoking, keeping physically active and choosing healthy food and drinks.
Tobacco use is the single largest preventable cause of cancer globally. Quitting smoking will have a major positive impact on an individual's health and that of their families and friends. The good news is that quitting at any age is beneficial, increasing life expectancy and improving quality of life.
Individuals can also reduce their risk of many common cancers by maintaining a healthy weight, and making physical activity part of their everyday lives. Being overweight or obese increases the risk of ten cancers - bowel, breast, uterine, ovarian, pancreatic, oesophagus, kidney, liver, advanced prostate and gallbladder cancers.
Specific changes to a person's diet can also make a difference – for example, individuals can limit their intake of red meat and avoid processed meat.
Alcohol is also strongly linked with an increased risk of several cancers. Reducing alcohol consumption decreases the risk of cancers of the mouth, pharynx, larynx, oesophagus, bowel, liver and breast.
Overall, more than a third of common cancers could be prevented by a healthy diet, being physically active and maintaining a healthy body weight. Reducing exposure to ultraviolet (UV) radiation from the sun and other sources, such as solariums, is also important to reduce the risk of many skin cancers.
Go for regular check ups
Diagnosing cancer isn't always easy – not all cancers show early signs and symptoms and other warning signs appear quite late when the cancer is advanced.
However, for a number of cancers, increasing awareness of signs and symptoms and the importance of timely treatment has been shown to improve survival from cancer. This is because finding cancer early almost always makes it easier to treat or even cure. In fact, recent figures from the United Kingdom for example, have found that for eight common cancers - bladder, bowel, breast, cervical, womb, malignant melanoma, ovarian and testicular cancers - survival is three times higher when cancer is diagnosed early.
Support those affected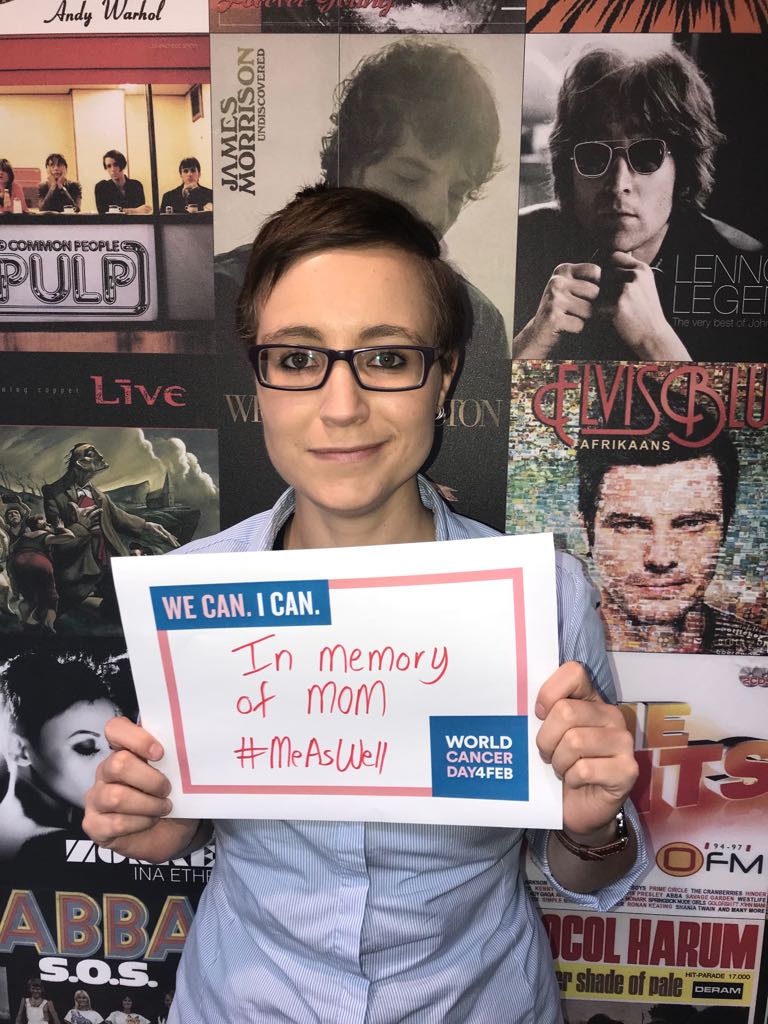 Support from friends, families, employers and colleagues can help a person living with cancer better adjust to the changes cancer brings and help to improve their quality of life. For some people, support may be needed over many years after the initial diagnosis as they continue to live with the physical and emotional impacts of cancer, even when treatment is finished.
For many, one of the longest lasting and most devastating consequences of a cancer diagnosis is its affect on sexual health and wellbeing; health professionals and cancer support services can help support these patients to improve their quality of life and that of their partners.
Changes in emotional intimacy can also be assuaged with open and honest conversations between partners.
Giving hope and support to someone living with cancer can make a big difference in their lives.
Spread the word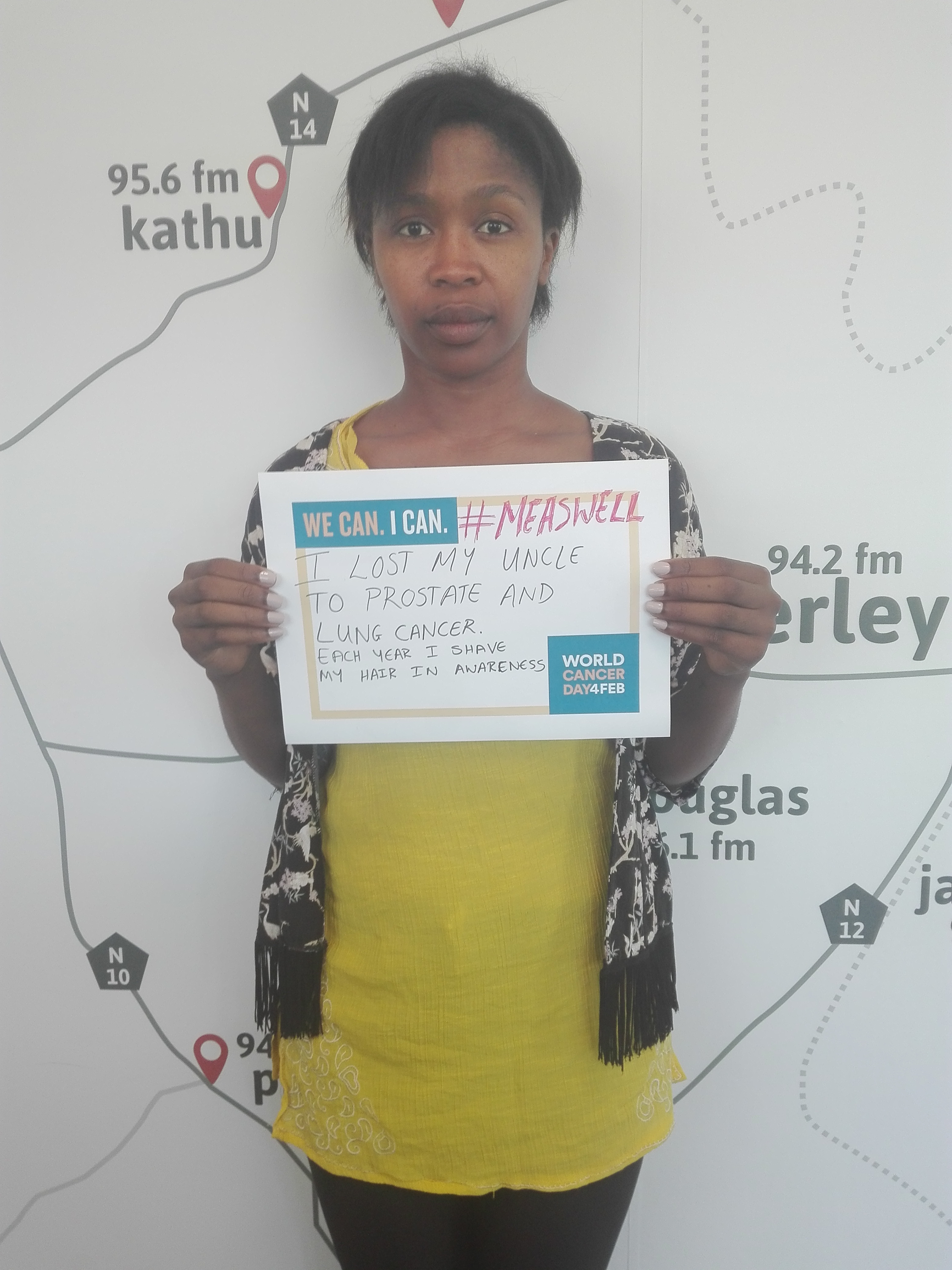 Cancer survivors can give hope to those newly diagnosed with cancer. By sharing their experiences, people living with the disease can play an important role in increasing knowledge about cancer prevention and the importance of early detection. Importantly, they can also give hope and support to others affected by the disease, and reduce fear around the challenges of returning to their everyday life after cancer.
The participation of cancer patients and their families in decision-making around cancer policies and programmes can foster a holistic approach to cancer care.
Individuals can be part of the conversation through engaging in public campaigns, communicating with decision-makers, and joining with consumer support groups to ensure the patient perspective is heard. In this way, cancer patients and their families can inspire change by helping define the issues that matter to them and advocate for measures to address these.
By making their voice heard and being part of the conversation on cancer, individuals can be powerful agents of influence, change and hope for all people affected by the disease.
Source: http://www.worldcancerday.org/
Get involved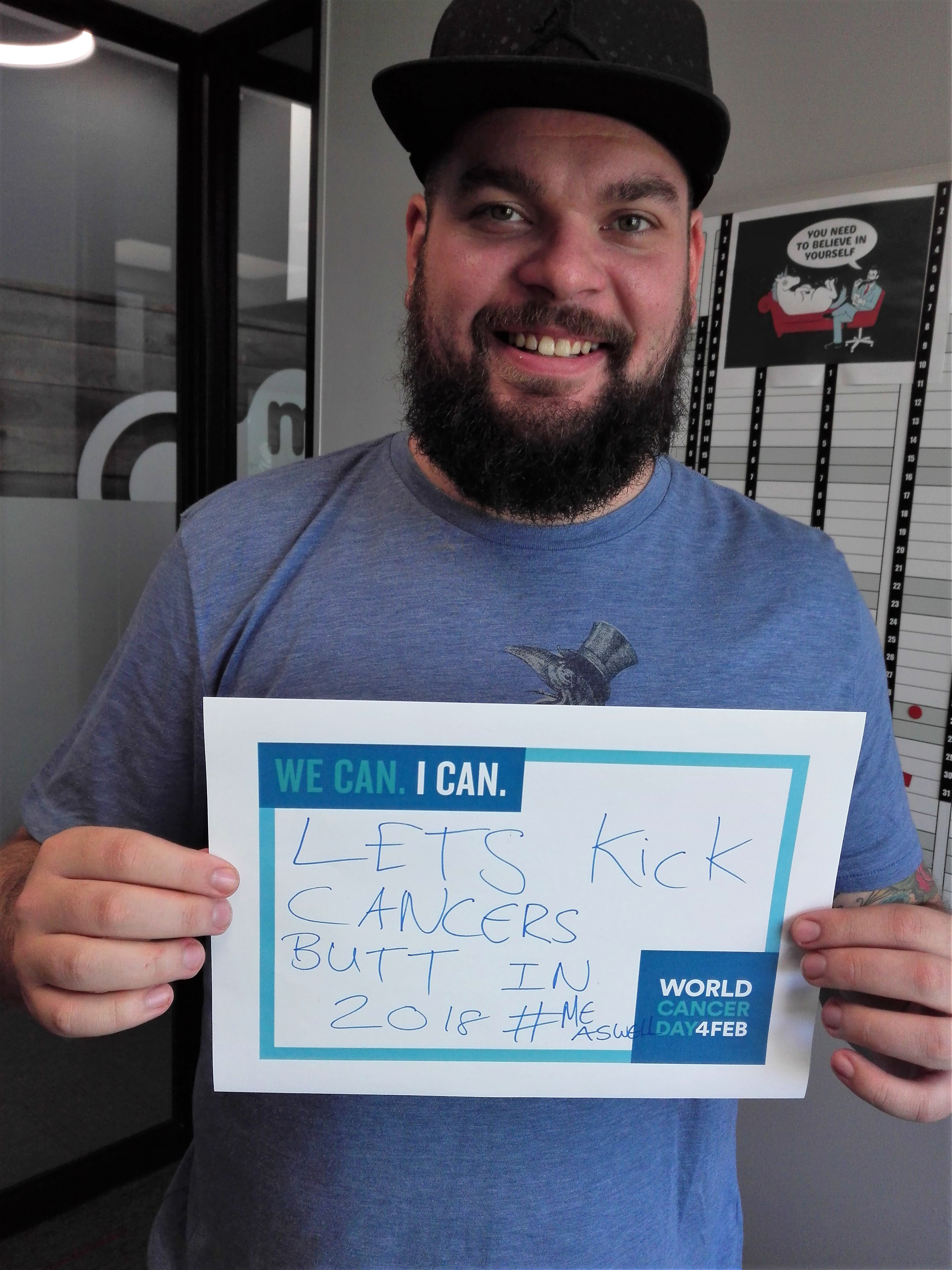 A little goes a long way… CANSA helps educate communities like yours, throughout SA, regarding screening options available; the symptoms of cancer and how to reduce cancer risk every day. They also provide care and support to those affected by cancer. See how you can make a difference here: http://www.cansa.org.za/